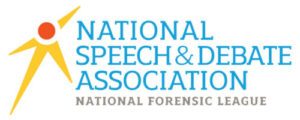 Public Forum debate is a two-on-two event that addresses resolutions set forth by the National Speech and Debate Association. The resolutions are announced periodically throughout the year, times specified by the NSDA. See SpeechandDebate.org/topics to see the schedule as well as the current resolutions.
Mar: On balance, the current Authorization for Use of Military Force gives too much power to the president.
Feb: The United States should abolish the capital gains tax.
Jan: Spain should grant Catalonia its independence.
Dec: NCAA student athletes ought to be recognized as employees under the Fair Labor Standards Act.
Nov: The United States should require universal background checks for all gun sales and transfer of ownership.
Sept/Oct: Deployment of anti-missile systems is in South Korea's best interest.
Preseason Preparatory Releases
---
Release Schedule
Don't fall behind! Stay prepared for competition by accessing your downloads throughout the tournament season. Follow specific releases for your event by viewing the Release Schedule. In general, the school season follows:
Pre-season Releases: June. This four-part video series unfolds the "Monument Way" to preparing for competition. The structure-and-strategy methodology for learning speech and debate has helped countless champions over the years.
Summer Releases (#1-8): July - August. These consist of basic lessons on debate topics as well as introductory cases and briefs for those topics. Limited-prep begin studying current events and league rules for the new season.
Early-season Releases (#9-24): September - December. These consist of 16 additional releases covering the league resolutions. Limited-prep continues their study with weekly releases on their events.
Midseason Releases (#25-37): January - March. Members will be enjoying their first tournaments in the midseason. These releases are meant to narrow the competitive focus and keep speakers and debaters sharp for their competitions.
Late-season Releases (#38-45): April - May. We'll be cheering on those Members who advance to state, regional and national qualifiers with negative briefs, generics, current event releases and opposition briefs. Members will be encouraged all the way through their National Tournament.
---
Permission & Usage
Click Here for complete information on permissions. All membership content is proprietary intellectual content, so please respect its copyright. Simply put, if you are not a Monument Member, you may not use it or share its content. If one partner of a debate team is a member and the other is not, the one who is a Monument Member must be the controller of the logins, downloads and incorporation of the Monument Membership material. Sharing logins is strictly prohibited.
---