NOTE: This download expired May 31, 2019. See message below.
Written by
Released: Filed Under: Expired
About "Miranda Rights"
This download is one of a previous season than the current one. Only those with Library Access subscriptions are allowed to download this archived material. In order to access it, you must purchase
Library Access
.
This case leverages rights-oriented impacts without devolving into the circularity of defining privacy as a right. First, either subsume or outweigh your opponent's value with human rights. If your opponent's value involves a moral objective, encompass it with your value by demonstrating how its moral significance is ultimately predicated on human rights: Because morality—principles of right and wrong for governing our behavior—is intrinsically a social concern, it depends on a particular conception of humanity to function properly. In other words, moral objectives (like justice, for instance) are reducible to rights. If your opponent's value is pragmatic, use the reasons to prefer to establish that morality supersedes pragmatism, which automatically impacts to preferring human rights as the value.
Having established the value framework, you should use the first contention to extend the universality of rights to the accused. For rhetorical effectiveness, acknowledge the pervasive reluctance to treat suspected criminals with dignity, but affirm that it remains nonetheless a necessity to act morally and protect innocents. Then the subsequent contentions invariably follow within the framework—privacy checks government intervention (which violates rights) but truth-seeking facilitates it.
Directions
Download the document with the button above. Study this release and get to know it well. File and print as necessary to prepare for your upcoming competition.
This download is exclusively for Monument Members participating in Season 19. Any use outside this membership is a violation of U.S. Copyright Law and violators will be prosecuted.
As always, double check all claims, warrants, hyperlinks and the current news in case any changes have occurred that will affect your competition.
Do you have questions about this download? Tap in your comment at the bottom of the page. The author, the site owner, or another member will most likely reply.
Permission & Usage
Click Here for complete information on permissions. All Membership content and Library Archives are proprietary intellectual content, so please respect our copyrights. Simply put, if you are not a Monument Member or a Library Access Owner you may not use it or share its content. If one partner of a debate team is a member and the other is not, the one who is a Monument Member must be the controller of the logins, downloads and incorporation of the Monument Membership material. Sharing logins is strictly prohibited, the only exception being from immediate family members within a single household.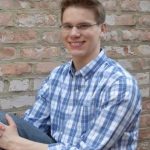 Joel consistently won tournaments or advanced deep into elimination rounds in NCFCA speech and Lincoln-Douglas debate. As a collegiate forensics competitor, he has enjoyed similar success with parliamentary debate and mock trial. Currently, Joel studies philosophy at Wheaton College and coaches debate for multiple organizations.