FREE "Keys to Speech and Debate Success" Registration
Limited time • Class starts July 23 • Free offer expires August 31
Season 19's edition of 
Keys to Speech & Debate Success
is a full revamp and new launch of the highly successful introductory lessons to the key strategies of champion speakers and debaters.
This FREE 4-video lesson will teach you the fundamental success strategies that helped last year's speech and debate student achieve top-most success. We hope the same for you! Sign up for this FREE course, and we'll see you online!  

Chris Jeub
Editor-in-Chief
---
REGISTER TODAY
to get access to weekly releases for speakers and debaters throughout the year. If you're already a Member,
LOG IN
.
Season 19 one-time membership fee: $99
---
Written by Champions and Coaches
Consider a membership as personal coaching.
Monument Publishing hires champion speakers and debaters to write the source material for the next generation of champs. All writing goes through a rigorous editing schedule to make sure every release is the most professional, ready-to-run, fully-equipped resource to add to a competitor's success. Check out some of our awesome authors:
---
For ALL Competitors, both New AND Experienced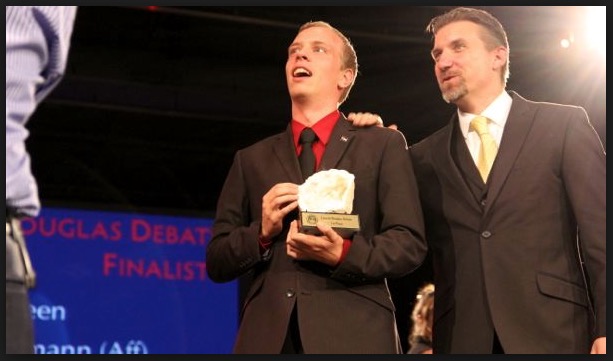 Wherever you are in your competitive journey, you have needs and insecurities. EVERYONE has them, no matter how experienced:
The Newbie
Lacks confidence
Doesn't know where to start
Seeks direction
Needs encouragement
The Expert
Lacks source material
Doesn't have much time
Seeks guidance
Needs to win!
Or somewhere in between. Point is: Members get what they need to maximize their potential at their upcoming tournaments. Wherever a young person is on their competitive journey, Monument gives them exactly what they need to succeed.
No need to be overwhelmed or confused or coming up short with what is needed for competition. Join the family of champions by becoming a Monument Member!
---
FREE DOWNLOAD: "100 Extemp Questions and 100 Parli Resolutions"
Get started right away with extemporaneous and parliamentary debate prep written by the Monument Member Extemp/Parli writing team, many of them national champions! A total of 100 releases each (200 total) give you extemp questions and parli resolutions from which to practice. This FREE download will help kickstart your year!
This FREE resource comes automatically when you register for Season 19. Offer goes away August 31.
Mark Csoros, Rachel Donka, Chris Jeub, Drew Magness, and Nick Robison all contributed to this resource.
---
Season 19 Release Schedule
Preseason Releases through July 31 • Season 19 releases begin August 6. 
Monument releases TWO semesters of content every Monday morning, plus preseason in the summer. Each semester contains hundreds of releases, custom written to specific leagues and events, totaling 420 guaranteed releases for the entire year. The school season is as follows:
Preseason • FREE releases through July
June and half of July consist of weekly releases on the front cover of MonumentMembers.com. These releases consist of official downloads explaining the transformative power of successful speech and debate participation. The Preseason material is FREE during their release weeks with NO OBLIGATION to buy.  
Semester 1 begins August 6
Releases begin in August and last through December, totaling 20 official lessons for 13 events and categories: 260 total downloads! Events include Policy Debate, Lincoln-Douglas, Public Forum, Parliamentary Debate, Extemp, Apologetics, Platform and Interpretation.
Semester 2 begins January 4 
Releases begin in January and last through May, totaling 20 additional releases for 8 events and categories: 160 total downloads! A special invitation to some national tournament training will be extended to Semester 2 Monument Members who make it to their national competition.
---
Need some questions answered?
Or email directly at support@monumentpublishing.com.