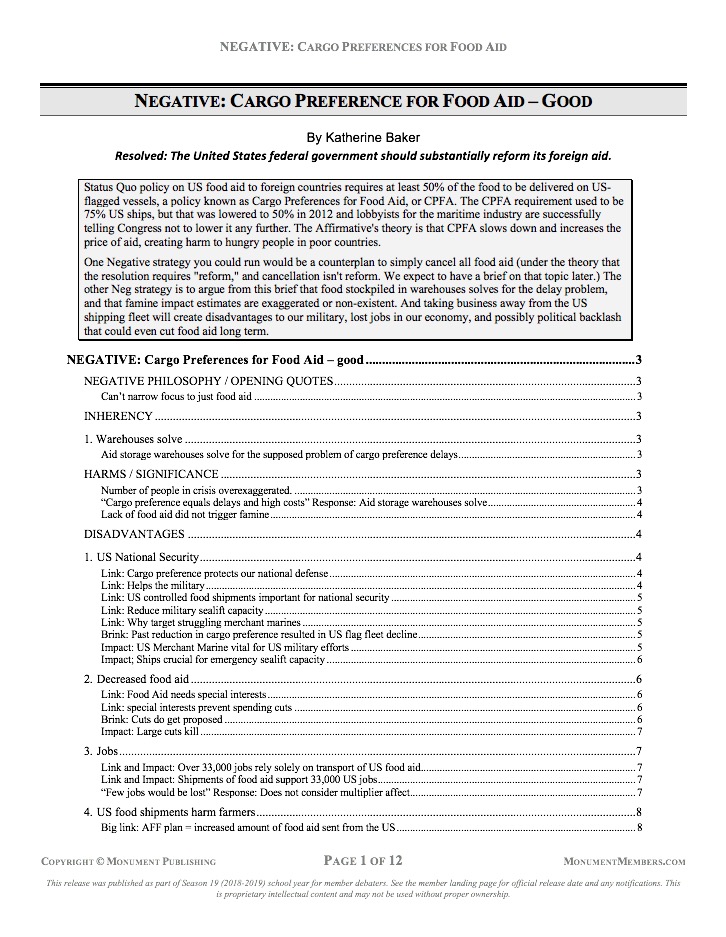 Written by
Released: Filed Under: Stoa Policy
About "Cargo Preference for Food Aid"
Status Quo policy on US food aid to foreign countries requires at least 50% of the food to be delivered on US-flagged vessels, a policy known as Cargo Preferences for Food Aid, or CPFA. The CPFA requirement used to be 75% US ships, but that was lowered to 50% in 2012 and lobbyists for the maritime industry are successfully telling Congress not to lower it any further. The Affirmative's theory is that CPFA slows down and increases the price of aid, creating harm to hungry people in poor countries.
One Negative strategy you could run would be a counterplan to simply cancel all food aid (under the theory that the resolution requires "reform," and cancellation isn't reform. We expect to have a brief on that topic later.) The other Neg strategy is to argue from this brief that food stockpiled in warehouses solves for the delay problem, and that famine impact estimates are exaggerated or non-existent. And taking business away from the US shipping fleet will create disadvantages to our military, lost jobs in our economy, and possibly political backlash that could even cut food aid long term.
Directions
Download the document with the button above. Study this release and get to know it well. File and print as necessary to prepare for your upcoming competition.
This download is exclusively for Monument Members participating in Season 19. Any use outside this membership is a violation of U.S. Copyright Law and violators will be prosecuted.
As always, double check all claims, warrants, hyperlinks and the current news in case any changes have occurred that will affect your competition.
Do you have questions about this download? Tap in your comment at the bottom of the page. The author, the site owner, or another member will most likely reply.
Permission & Usage
Click Here for complete information on permissions. All membership content is proprietary intellectual content, so please respect its copyright. Simply put, if you are not a Monument Member, you may not use it or share its content. If one partner of a debate team is a member and the other is not, the one who is a Monument Member must be the controller of the logins, downloads and incorporation of the Monument Membership material. Sharing logins is strictly prohibited.
Would you like to join?
Downloads like these don't grow on trees. They take hard work from experts. But we make it easy and affordable with a membership, and we'd love for you to join us! Fill out the fields below to be included in all that Season 19 has to offer:

Click here for more information.
Katherine Baker studied team-policy debate for five years before graduating, enjoying much success and qualifying for NITOC in various events. She loves working on debate and sharing her knowledge with others, most grateful for the life lessons speech and debate has taught her.